Every once in a while I head on over to Restoration Hardware for some inspiration. I love so many things there but they are not in my budget. I saw this cute little pillow there and thought that it would look nice on my couch but the tag said $45.
I thought I wonder if I can make something similar?
I did. A little burlap sack, a homemade stencil, a pillow form and there you have it! For $4 instead of $45!
I love to mix the burlap and the lace. Who would have thought that we would be putting burlap on on our beds and our couches! It just adds the perfect touch of texture.
So, I am linking this pillow project to Jillian at
The Virginia House
, with her We Can Do It Cheaper Monthly "Copy" Link Party.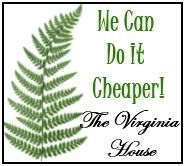 Terry (one of the bricoleurs)